I know very little about most sports, and soccer is no exception. The ball moves back and forth really fast, and then at some point a really excited commentator from another country screams GOOOOOOOOOOOOOOOOOOOOOOOAAAAAAAAAAAAAAAAAAL! as loud as they can so that my dogs go running and my speakers are blown.
And that, ladies and gents, is the extent of my soccer knowledge - This proved slightly problematic when I was asked to make a soccer ball cake and cupcakes for one of the world's cutest little 4 year olds. Anywho, I was game (*snicker* corney joke ftw), so I agreed to the cake. Little did I know that it was going to be a comedy of errors.
1. I had never baked in a dome pan before so I decided to do a trial run when we visited our friends in Charleston a few weeks ago. The batter seemed to come out fine and I put it in the oven ready to claim victory, but what came out was put fail. It was dense and chewy, and just plain gross.
2. Round two of trials I did after we got home. The cake baked up better this time, but I still wasn't happy with the texture, so I decided to switch it up and use a different butter cake recipe that I've had success with in the past.
3. I should know by now to listen to my gut. Like when you put the round bottom pan in your oven and go, "Hm... that looks slightly tilted to the back. I hope that doesn't tip," LISTEN TO YOURSELF. 20 minutes later I start smelling cake... and I shouldn't be able to smell cake yet... and it shouldn't smell like burning... So I frantically run to the kitchen, and this is about what I saw when I opened the oven: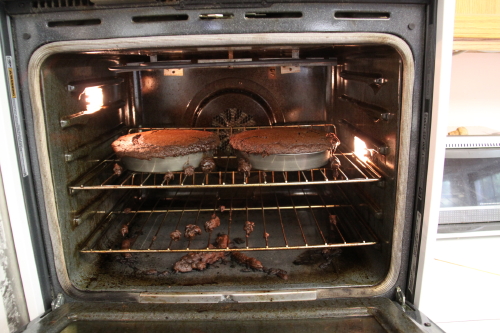 This is not my cake, but think this - only in vanilla, and 10x worse.
I immediately removed the lower rack that had cake goo all over it, and began the process of scraping the burning cake from the bottom of my oven so that A) the remaining cake would not taste like death, and B) In hopes that I would not set off the smoke alarm for the second time in as many days resulting in a 4 legged yellow thing shaking and stuck to my legs for the next 24 hours. C was also nice enough to remove the batteries from the smoke alarms for me - we're super conscious about fire safety in our house.
With Crisis #1 averted and the cake and cupcakes finally out of the oven, I could decorate everything. Enter problem #2.
I assumed all the shapes were the same - all nice little hexagons that line up evenly and are super simple to make. LIES. ALL LIES. Apparently the decorations on a soccer ball can be may different things, and even the simplest of them is a combination of hexagons and pentagons. Mind = blown. So I ended up using a cutter for the hexagons and free handing (read: cutting with a knife and forcing round pegs into square holes) the pentagons. Overall I think it turned out fairly well, and I was super pleased with myself - that is, until it was time to make the mini soccer balls for the cupcake decorations.
My plan was to make the mini balls out of the leftover fondant and use an edible marker to draw the shapes. Apparently, the edible marker does not write on soft fondant. Who knew? So my brilliant solution was to coat the fondant balls in candy melts with my neato cake pop trick that I learned, and then use the marker on the firmer surface. Denied - the marker still didn't want to write on it. Option 3? Pipe those suckers with black icing. I think I sprained my palm... can you do that?
After all of that, here's the finished product:
My mad phone camera skillz at their best.
Apparently the grass was the hit of the party